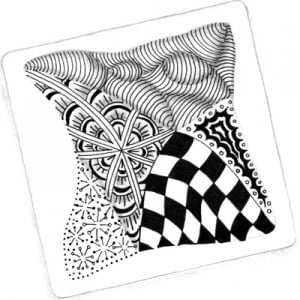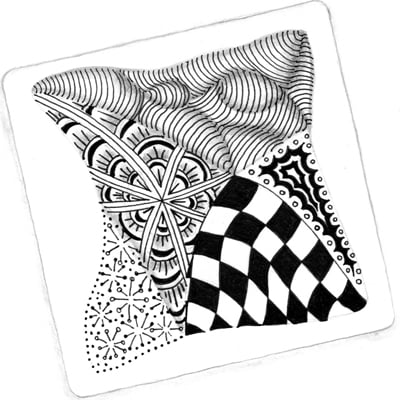 A very warm welcome to TanglePatterns, you are certainly among friends. Tanglers are a wonderful, generous and sharing community. I hope you enjoy the site and are inspired by the tangles and many useful resources you find here. Please feel free to add your thoughts in the comments on any page and join in the community.
If you are new to Zentangle®, I suggest you visit the ZENTANGLES > WHAT IS A ZENTANGLE page (top menu bar) first to get an idea of the focus of TanglePatterns. On the ABOUT > HOW TO USE THIS SITE page you'll find helpful suggestions for using the site.
Here's another resource that's handy for newcomers — Exploring TanglePatterns. Be sure to check out the rest of the pages on the menu at the very top of every page — there's a wealth of information there you'll want to see.  Also, don't miss the TUTORIALS tab on the pink alphabetic tangles menu bar.
I've also added an FAQ page on the "About" menu that may answer any other questions you might have.
Never miss a tangle
Sign up to get new tangle posting notices delivered free to your inbox by email in just 2 easy steps:
click here: Subscribe to TanglePatterns by Email and enter your email address
IMPORTANT: you must activate your subscription by clicking on the link in the email you will receive immediately from FeedBlitz on behalf of TanglePatterns. Note: if you subscribe to all three lists (Daily, Comments, Weekly Digest) you will receive a confirmation email for each subscription.
Have a good look around, there are lots of great tangles here … and … happy tangling!
NOW AVAILABLE in PAPERBACK @ $23.95 + shipping!

The fabulous hardcover, and now softcover, book by Zentangle's co-founders, Zentangle PRIMER Vol 1.

"Absolutely the best Zentangle Book yet! As an accomplished artist I used to think I did not need instruction on this art form. How wrong I was! My tangling improved by leaps and bounds after reading this book.

If you think you have Zentangle down then you need this book more than ever!" ~ Kris H
---
eBooks available from TanglePatterns.com
NEW!! TanglePatterns.com TANGLE GUIDE, 2020 Edition

The current Edition of my TanglePatterns.com TANGLE GUIDE. This 79 page (54 MB) interactive eBook PDF contains all the tangles on the site from May 2010 through December 31, 2019. With almost 1,400 tangles and loads of useful features, this is a must-have tool for using the site.
Visit the BOOK REVIEWS page for more information on all the features and to see a sample page.
Visit the STORE > E-BOOKS page for more information and help keep TanglePatterns.com online by getting your copy now!
* * *
TanglePatterns.com BEGINNER'S GUIDE to Zentangle®
STORE > E-BOOKS
STORE > E-BOOKS en Español
STORE > E-BOOKS en Français
A Zentangle jump-start for beginners! This illustrated eBook describes Zentangle®, its origins, the supplies recommended, and the steps of the Zentangle Method™.
Contains over a dozen examples of Zentangle-original tangles that are good for Beginners and an interactive list of additional free learning resources. If you don't have a CZT near you this explains everything you need to know to get started with Zentangle.
---